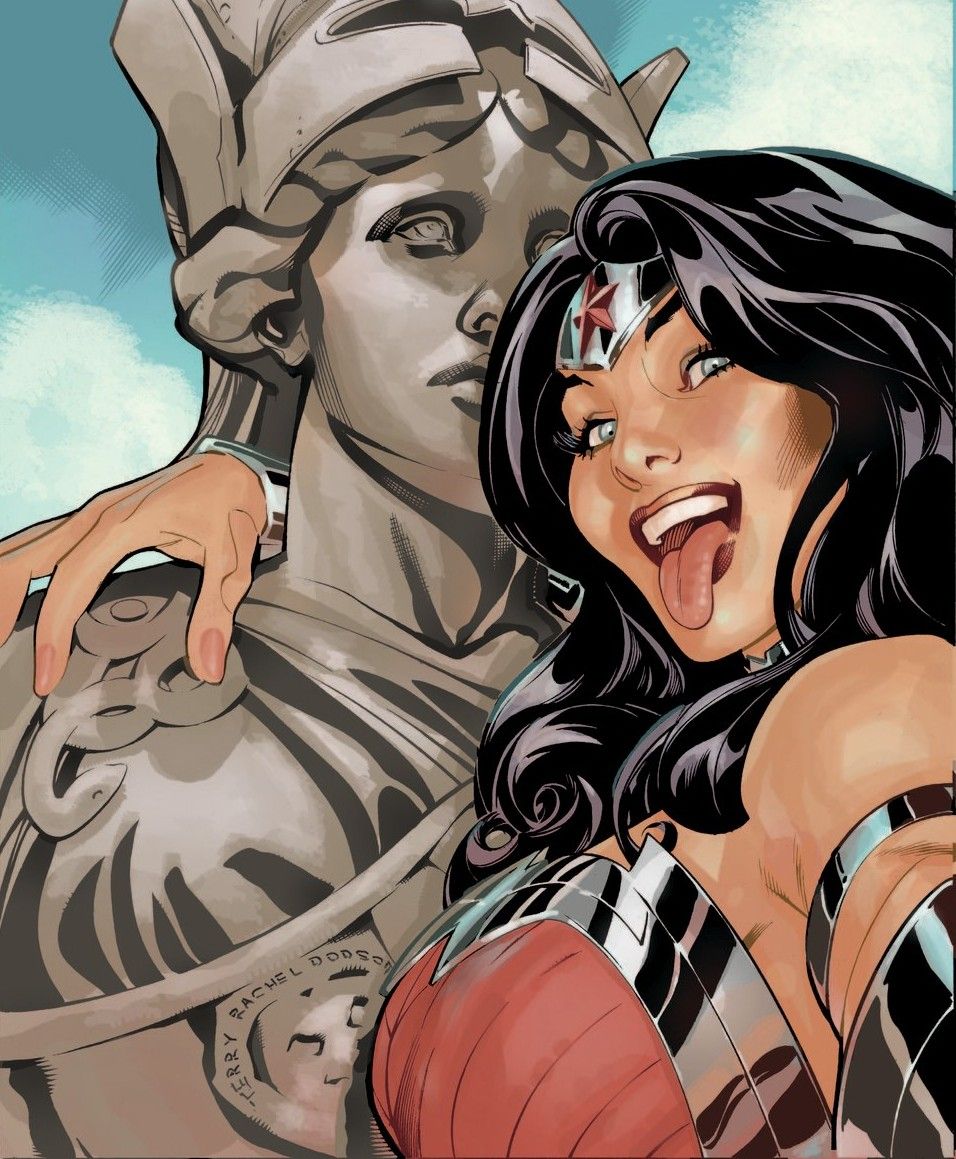 Terry & Rachel Dobson achieving more life with pens than Warners could with $200 million
Zack Snyder's Justice League looms ahead like the Cirque du Soleil performing The Book of Revelation. But first:
The purpose of Wonder Woman 1984 probably seemed clearer to the board of AT&T Incorporated than to anyone watching the film. Finding things to praise about it—there are a couple—has to coexist with pointing out that it might be one of the worst written films ever to receive such high-profile attention, and critics urging people to see it—there are a couple of those too—just proves how other factors now weigh down the simple job of telling people when a film is held together with string.
We are up to our necks in an era where fantasy films think a story must be just a list of data points, but WW84 does the whole dubious system a service by showing all of its working out and deletions. Witness: Diana tells a story about a suit of golden winged armour used when a legendary Amazon did a 300 Spartans routine against impossible odds. Come the climax she specifically detours to fetch it—before wearing it to fight four blokes and a cat for two minutes. Because the armour is irrelevant. What actually matters is that it's a visual data point from a 25-year-old comic painted by Alex Ross and that the data point is ticked, the whole machine tipping over to poke the knowledge and dopamine receptors of a subset of a subset of the audience. You assume this rotten Easter egg came from co-writer Geoff Johns, and if so then the time has probably come to lock the comics writers out of the shipyards now and let actual screenwriters build these oil tankers, if they must be built at all. (WandaVision, just concluded on TV, looked as if it was playing this game a different way with its sitcom callouts but capitulated at the end into the compulsory big battles, greenscreen cloud monsters casting all the usual animated lightning, and the pop-culture nods were just superfluous fluff.)
WW84 says that people have to pull together as a collective and get real, which by the standards of the Disney Industrial Complex is practically socialist. Everyone gets to wish for what they want and it's all fun and games until the nuclear missiles rise in the background. As with the X-Men franchise, one character pleading with the better nature of another remains the strongest sight these digital punch-ups can realistically go for, but all the other plot elements going nowhere pile up in a heap. Diana is (vaguely, apparently) immortal, but why this woman of all women needs to resurrect one man of all men in order to jump him is never pondered. One old photo seems to show her involved in liberating the Nazi camps, a philosophical dot the film never joins back up to, although the nationality of the actor comes to mind unbidden. It does when she rides a missile fired at some Arab children too, along with wondering if anyone really looked at this stuff on the page.
But all that is content, and as usual it's the form that really drives the hangover. Ever since Captain Marvel a realisation has finally hung in the air that this form, these specific kinds of sights and sounds and rhythms and music from the Hans Zimmer anvil chorus, are at best a small-c and probably a capital-C Conservative broadcasting service whose calculations were increasingly unsubtle as the strains in the mechanism started to build up even before Covid arrived. Now that it has and things like WW84 are rocking up in your living room, surely it's the discrepancy, the let-down, the big void between the implied humanist message of the data points and the empty impersonal way they are actually delivered, the colossal overemphasis on prosaic repetition of the same material when that material is such small-scale acting and myth-less visual non-flair, that sits at the root of the problem, one huge all-encompassing Irony in this the age of irony that just cuts viewers adrift. And then WW84 ends with a scene in which Lynda Carter walks on, the film irising down and down onto one last small insular and Forty Five Year Old data point which oh look happened to reappear on HBO Max at the same time as the film, disappearing down into its own cells like it's Fantastic Voyage.
Coincidence, or not, that We Can Be Heroes, the latest of Robert Rodriguez's young-adult films for the young at heart made for roughly the cost of the WW84 catering, has a similar dig at stupid presidents and a big central message of taking collective responsibility for sorting out the planet—which in Rodriguez's case means letting the young rehabilitate the damaged Earth while anyone over 35 just gets out of the way. All of which breezes by in a candy Android app store that makes WW84 look as dulled as a something dug up from an Athenian flea market.