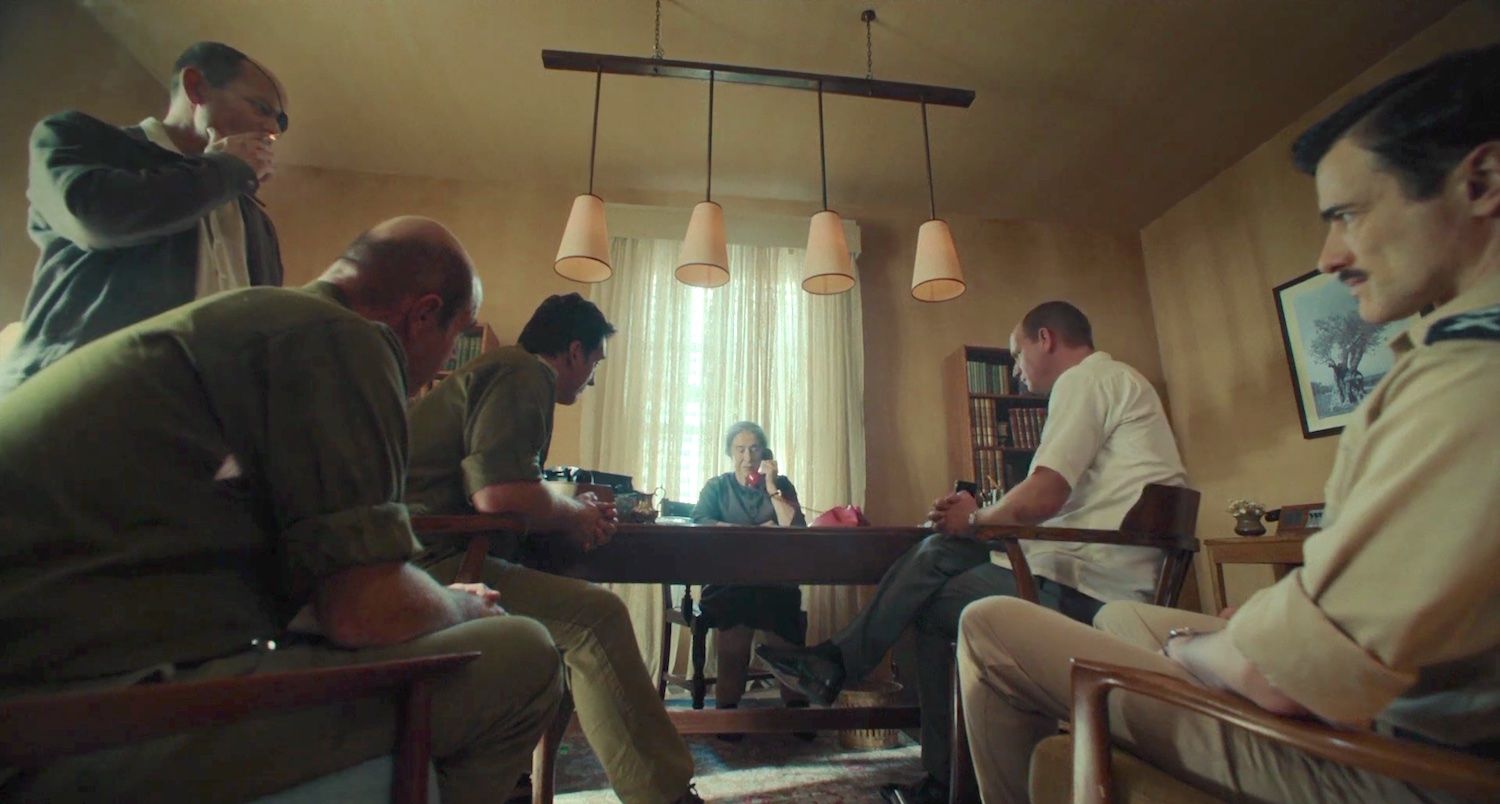 In the November Sight and Sound print magazine a short review of Golda, the biopic about Golda Meir leading Israel during 1973's Yom Kippur War which attracted attention for casting Helen Mirren, rather than a Jewish actor, for the lead. Watching it is another chance to wonder if authenticity should be stamped on art in the factory like a manufacturer's watermark, and another chance to decide that the answer has to be no. The original version of the review said why; the printed version implies I don't think it's an important question, whereas in fact I do.
But not as important as real life. A film about one side in an old war scheduled to appear on the anniversary of that war is released just as a new incarnation of the same war kicks off and the screams of real people drown out anything happening on screen. Golda knows history—the original review pointed out that a chain-smoking Meir being constantly accompanied by clouds of smoke and ash signals the Holocaust as much as her stubborn character—and although the story is obviously one-sided it's not without nuance, if Moshe Dayan being so traumatised that he pukes in his own helicopter is nuanced. But this kind of storytelling is a peacetime exercise. All the standard tactics of historical biopics, earnest and plaintive and easily fitted onto TV and showing politicians as flawed human beings while a suitable string instrument weeps on the soundtrack, Golda Meir's catharsis when a colleague is bereaved or Winston Churchill winning WWII after a baffling trip on the London Underground, is at its weakest and most compromised when circumstances jam it directly up against current events and make it look less like humanist drama than dreamland.
Eighteen years ago Golda Meir turned up in Steven Spielberg's Munich, a film humanist enough about Arab-Israeli bloodshed that Israel's Consul General in LA called it "problematic." The character there is played by Lynn Cohen and has the luxury of doing two bits of business for four minutes before leaving rather than shouldering the whole enterprise, and yet the writing and directing are so crisp and incisive that they feel more illuminating of her character than longer stretches of Golda.
It's tricky to watch Munich for four minutes. When Cohen walks off Geoffrey Rush walks on and there's that crazy beautiful bonkers shot where the light catches his glasses—accidentally? deliberately? artificially?—and then you sit there for the remaining two and a half hours. The ethereal affect is part of the message and the message vibrates in the guts at a low frequency, and you still can't be sure whether this kind of mainstream art has meaningful wartime powers or has to retreat to the side of the dance floor once hell is let loose and come back to complete its business at some later date.