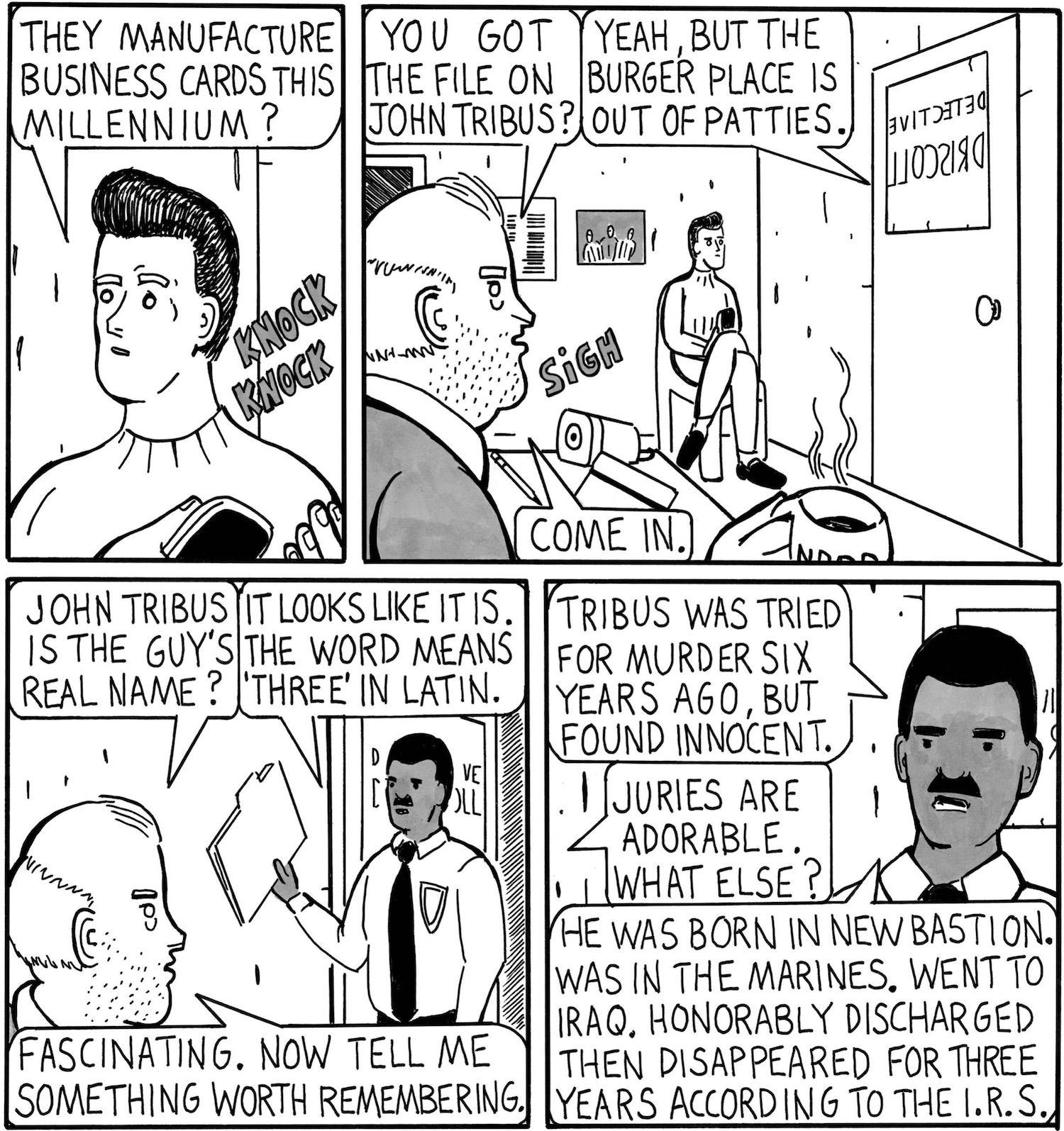 No point blaming Tarantino for everything (apart from Death Proof which is still criminal) but what is this if not a comic caught in the eternal wake of the Tarantino speedboat from decades ago, its characters rolled up into their own talk like a poster squeezed into a tube?
Self-propelled one-man neo-noir factory S. Craig Zahler, whose films are wordy but not that wordy, has made a graphic novel motivated apparently by pure affection for the comics form, and to say the least struggles to get the words and pictures to cooperate for a greater good. Forbidden Surgeries of the Hideous Dr. Divinus, with a title that waves a big neon sign saying Grindhouse, is clearly keen on Benjamin Marra comics and look here's Marra doing the title cards for a film Zahler scripted…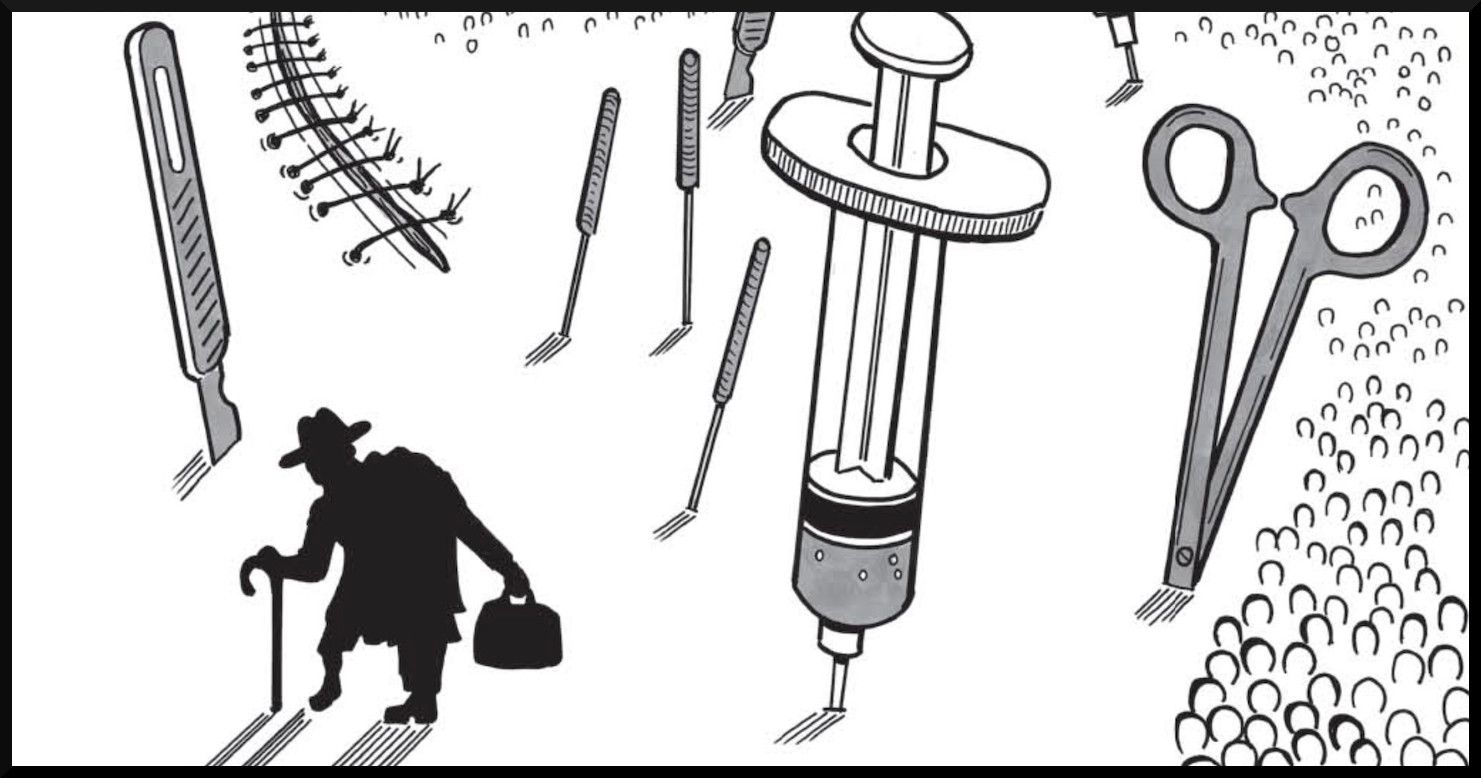 Zahler…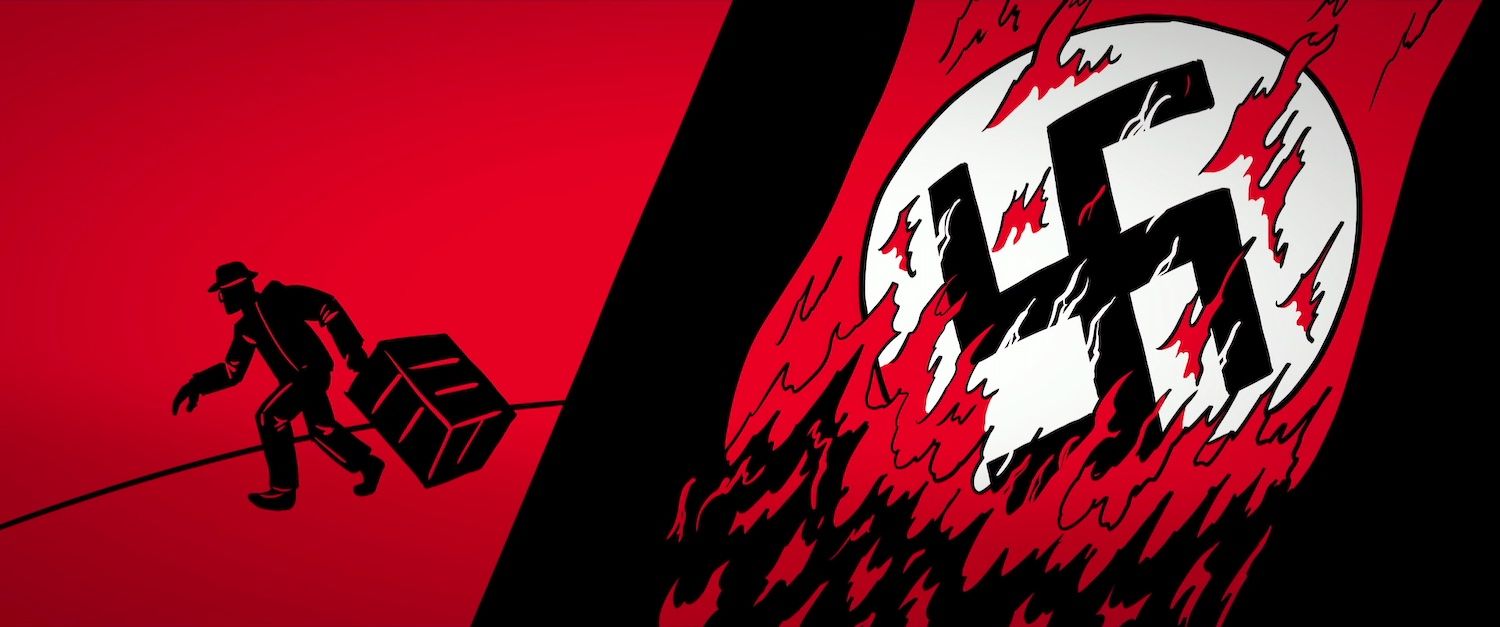 …and Marra
…but Zahler's words and pictures cohabit like an unhappy couple on the outs, puffing up a hill. There's also the inevitable Irony Issue, a briar patch Marra's comics swan-dive into constantly without puffing any more than he intends, and which Zahler himself has sometimes made lighter work of than this—assuming of course that Dr. Divinus is intended to be ironic in the first place, the alternative being the kind of scenario that leaves critics breathing into a paper bag.
What would light work even look like at this point, a sincere un-ironic comic of pop-culture cop-culture horror starting from over here and aiming for over there? Even allowing for the not-left politics that Zahler habitually leans towards (the working class don't get very far in Dr. Divinus but they don't do anything about it either, apart from the one who becomes a criminal and makes a fortune), there's also the small matter of a road well travelled. Sexcastle from Kyle Starks came out years ago to mock (tribute, it says here, but the distinction might be moot) the kind of B-movies that became A-movies in the 1990s, while Dr. Divinus is intended as a tribute (likewise, same) to pre-Code horror comics from an era before that, a story of the city "as a cave into which predators can crawl"—Christopher Sorrentino's phrase about Death Wish, said in admiration, and they don't make them like that any more.
When everything that already exists is just data to play with, the results might be admiring but are always a game. Dr. Divinus and Sexcastle play the same game and end up looking similar, and "looking" in this case has to skirt around the fact that Zahler is by his own admission drawing as a fan of comics art rather than a comics artist. You could skirt a bit less and say that there are fanzines containing art which asks fewer questions than this, questions such as who is that person over there and what are they doing exactly.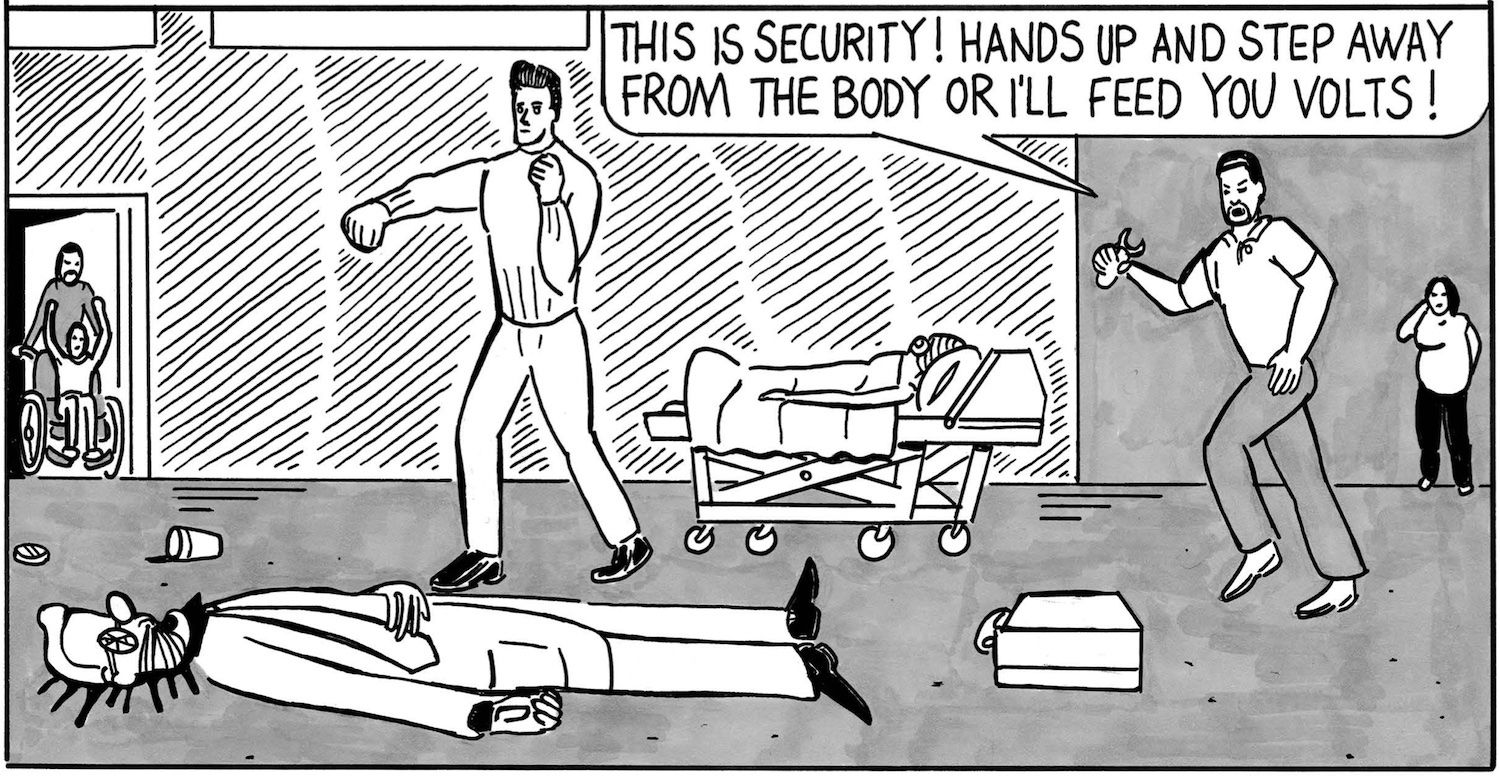 A review of Forbidden Surgeries of the Hideous Dr. Divinus and why polite art goes round in circles maybe for The Comics Journal website. Several far more favourable reviews of it are available elsewhere, which is another topic entirely.
See also: Film directors writing comics
And also: The S. Craig Zahler Way of Death
And yet also: Death Wish 2, Critics 0