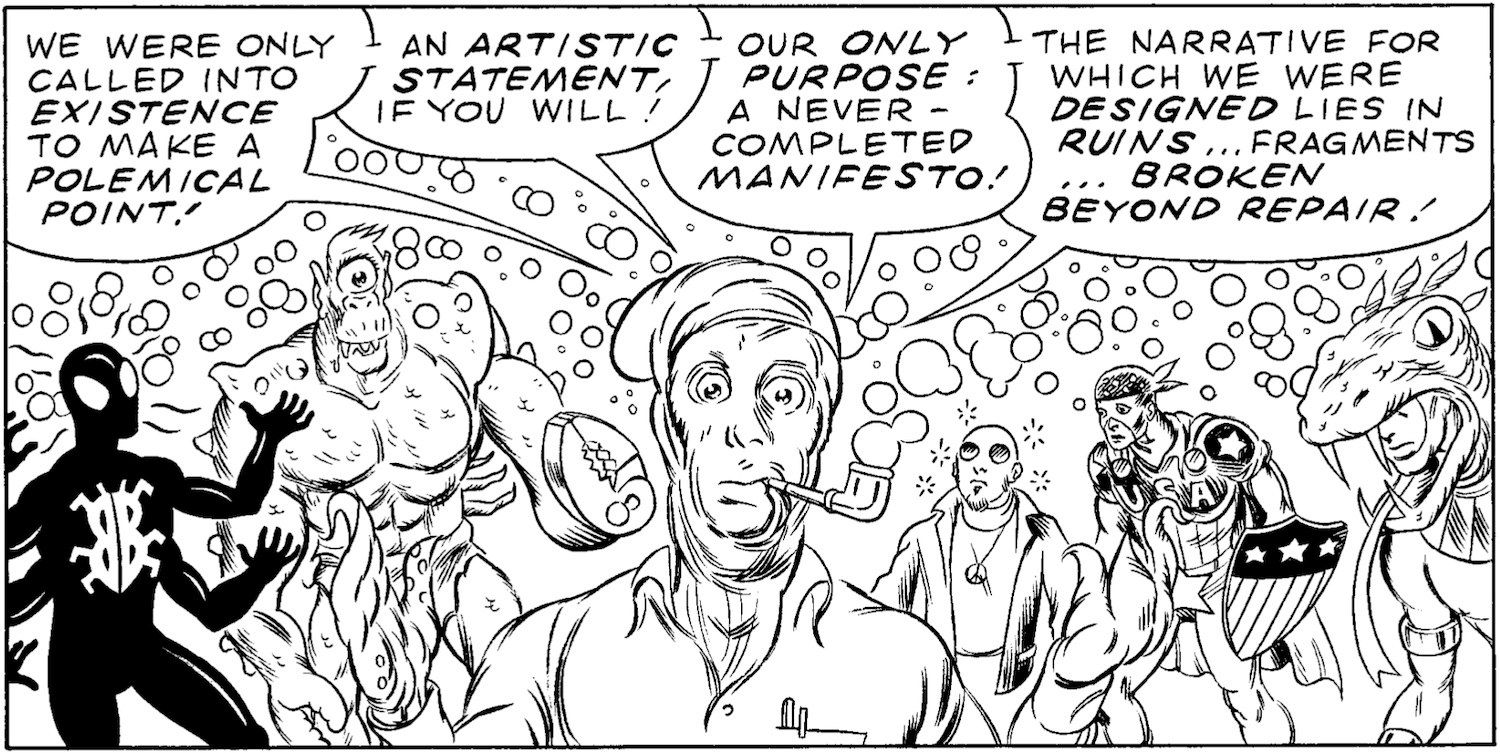 For The Comics Journal a read of the suitably over-titled X-Amount of Comics: 1963 (WhenElse?!) Annual, Don Simpson's aerated parody-roasting of comics industry figures and himself over slights and grievances from decades ago, a book located where intended some distance up the comics industry's fundament. Some readers may think they've got wedged in a narrow crevice of their own, and after decades of practice Simpson's humour cartooning is sharp and skilful and like being shouted at by someone whose talent and indignation are closely tied together. But compared to the placid pathos of many an autobio comic, mania has several advantages.
There are tribes in South America aware of Simpson's long-standing beef with Alan Moore, whom Simpson these days curses in terms usually reserved for the bailiff taking your car. But X-Amount spins at such high velocity that the spoof gathers up the spoofed and spoofer alike as it goes. You could make a good case that the book mocks the comics industry entire, for being dysfunctional enough to have created the chain of events now being mocked, round and round.
Mainly it demonstrates that people are still fully invested in dislike of Alan Moore, building whole frameworks of artistic expression, entire ways of operating, around that dislike. Certainly true that facile media fascination with the man remains a big factor—only last week someone at Uproxx got a whole article out of asking Moore about the TV Watchmen series and getting back what they must have expected (the series was four years ago!) and that piece then got the compulsory blanket coverage elsewhere too—but in the end the people complaining only summon back up the quasi-object named Alan Moore and then complain that he's back. The Moore Industrial Complex rolls on and on.
Including here: On The Show and the Mood Of Moore
And: On Grant Morrison's novel which is unsurprisingly not Moore-ish